[Kijiko]glasses003_JFRey_JF1297

Please
Do Not re-upload
my file.
Please
Do Not Include
my work in your upload.
Please read the
Terms of Use
.
Description
The original design is JF1297 of J.F.Rey (the eyewear brand).
Unisex / Teen to Elder
Recolorable frame
sims3pack file
The texture of glasses may not be displayed well
when your Sim puts on a lot of accessories.
In this case,
It will be improved if your Sim removes some accessories.
Credits & Thanks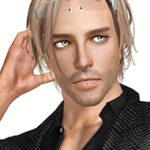 It's adjustable position, angle and scale with this slider.
こちらのスライダーで位置等が調整可能です。
こちらのメガネはJ.F.ReyのJF1297(のつもり)です。
形は昨今人気のあるウェリントン型です。実物は、カラーがどれも遊びがあって楽しいメガネです。
ただ、資料が少ないっ!当然実物を所有している訳ではなく、着用イメージとかカラーバリエーションとかネットで調べて作ったんですが、今回仕込んだカラー以外にもバリエーションがあったぽい。小さい写真しか見つからなくて諦めましたが。
このフレーム、実物はリムの下半分が少し半透明になっています。当初、馬鹿正直に半透明で作ってみたんですが、メガネのフレームなんて細すぎて、よほどアップにならないと半透明と気づきません。とほほ。
無理繰り半透明にする手間に比べて効果が極めて低いので、結局スタンダードな作り方で不透明仕様にしました。
でもそうした事で、上下の色を同色にしたとき普通のウェリントンメガネみたいに使えるので、結果、良しっ!ではないでしょうか・・・?(誰にお伺いを立ててるんだ!?)
後、問題としてはアクセサリー類を沢山付けていると、フレームの模様がもやもやになってしまいます。シムズの仕様でアクセサリーのテクスチャスペースの関係上、不可避なんですが、アクセサリーの取捨選択して頂くと改善すると思います。
男女両用、ティーンから老年まで対応です。