Please
Do Not reupload,modify,reproduce
.
Please
Do Not include my creations
in your uploads.
Please use it at your own risk.
[Kijiko]S4_hair025_YU_Balinese_S3conversion
Description
'Hototogisu' TS3 to TS4 conversion for Teen/YA/Adult/Elder
For All Genders
Hair with Alpha Textures (Please make sure to uncheck the Laptop mode)
Feel free to recolor and retexture,
but if you upload it to somewhere,please DO NOT include mesh data.
Please link to my blog,as a way to get mesh data.
There may be cases where the mesh data is updated for fixing issue.
Please make sure your game is updated to the latest version.
The CC may not be shown with older game version than that.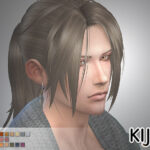 Hototogisu TS4 edition
同じ髪型のTS4エディションがあります。

Known issues
This is Hair with Transparency,that means this hair is made by using texture alpha and the 'SimGlass shader'.
Almost all transparent hairs have issues like below.
The hair sometimes disappears when it's behind some transparent objects.(in back of objects fading,pool,etc…)
(In the game patch in 12/04/2015,this issue has been improved a little.
Plumbob has not made the bald head anymore,and the water surface,too.)
The hair is not often drawn correctly when it's in front of effects.
The hair is shown incorrectly with other CAS parts using 'SimGlass shader'.
Something's wrong with its the front and the behind.
The post-processing effect doesn't work correctly on the hair.
The hair doesn't work correctly in Laptop mode.
It seems that shader's behavior is by design.
シムズ3の髪型「
Hototogisu
」をコンバートしたものです。 両性別・両体格対応してます。
こちらはいわゆる、透過ヘアです。一応お断りしておきます、シムズ4の仕様により以下のような不具合があります。
ノートPCモードでは正しく表示されません
半透明な物の後ろでちょいちょい禿げます。(オブジェクトのフェードとかプールとか・・・)
*2015/12/04 のパッチで水面に反射している部分は禿げないようになりました。また、半透明プラムボブの仕様が変更になったためこちらでも禿げなくなりました。
透過髪どうしや他の透過CASパーツ(拙宅のまつ毛なんかもそうですが・・・)と重なると前後がおかしくなる事があります。
悲しいとこに多くのエフェクトと相性が悪いです。エフェクトと髪の前後がおかしく描画される事があります。
ポストエフェクトとも相性がわるいです。エフェクトが変なかかり方をします。
こちらの髪型は男女両用となっております。
保存
保存
保存
保存
保存
保存
保存
保存
保存