Please use it at your own risk.
***** Mar/18/2017 Update *****
Added the toddlers version.
Updated meshes of children's hair.(original download page http://kijiko-catfood.com/kijiko-hair-for-kids-vol-1/)
Added new hair colors.
Retouched its shape a little to make close to adult version.
If you've already got this hair,please overwrite the older files after re-downloading.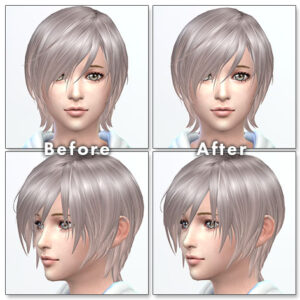 幼児用を追加しました。
子供用、更新しました。(旧ダウンロードページ http://kijiko-catfood.com/kijiko-hair-for-kids-vol-1/)
新規髪色を追加しました。
子供用のメッシュが少々サイズが大きかったため、大人用のシルエットに近くなるよう修正しました。もしすでにこちらの髪型をお持ちの場合、お手数ですが再ダウンロード後、古いファイルを上書きしてお使い下さい。
[Kijiko]S4_hair006_YM_FishingCat
for Teens / YA / Adults / Elders , all genders
[Kijiko]S4_hair006_CU_FishingCat
for Children , all genders
[Kijiko]S4_hair006_TU_FishingCat
for Toddlers , all genders
Description
Round Bob Hairstyle
For All Genders
Non‐Alpha Textures (no problem with shader issue using textures with alpha channel for hair)
Feel free to recolor and retexture,
but if you upload it to somewhere,please DO NOT include mesh data.
Please link to my blog,as a way to get mesh data.
There may be cases where the mesh data is updated for fixing issue.
Please make sure your game is updated to the latest version.
If the game has not been updated,CC may not work.
Older versions
Change Log
***** Jun/27/2016 Update *****
Made compatible with Masculine Female and Feminine Male.
By this update,this hair has become compatible with both genders and both frames.
If you've got this,please download again,then overwrite the old files.
男性的女性、女性的男性に対応しました。
この更新により、こちらのファイルで、男女両方と男性的・女性的の両体格に使えます。
更新ファイルを使われる場合は、再ダウンロード後、古いファイルを上書きしてください。

男性用ボブヘアーです。(2016/06/27 女性用にも対応しました。)非透過ヘアです。
星のカービィの画像を眺めていたら、おもむろに作りたくなった髪型です。なので全体的にシムもピンクっぽくしてみました。星野可亜微意です。名前っぽくなるかと思って変換されるがままに漢字をあててみました。微妙ですね。
カービィを見ているといつも和菓子のすあま(上新粉をこねて蒸したもちもちしたお菓子です。好き嫌いは分かれる食い物だとは思いますが、ワタクシは好きです。わりと。)を思い出します。
何かあんな感じの材質でできてるんじゃないかと想像してます。
もうカービィが食い物にしか見えなくて困ってしまいます。カワイイけど。
どうしても髪型のスクリーンショットだと見切れてしまうんですが、今回シムに着せてるカーディガン、わたしむさんのをお借りしました。
3色展開で作っておられて、どの色も明るい配色がシムズ4のアートワークとマッチしていてすごくイイ感じです。ありがとうございます!
保存
保存
More Stuff I Think You'll Like