Please
Do Not reupload,modify,reproduce
.
Please
Do Not include my creations
in your uploads.
Please use it at your own risk.
[Kijiko]Skin_Overlay00
Description
Skin Overlay for All ages and genders
Work as the Skin details : Forehead Crease or Mouth Crease
The Game version 1.19.31.1010 , Mac 1.19.31.1210 or later is required.
The CC may not be shown with older game version than that.
Compatible with Females 3D nipples by CmarNYC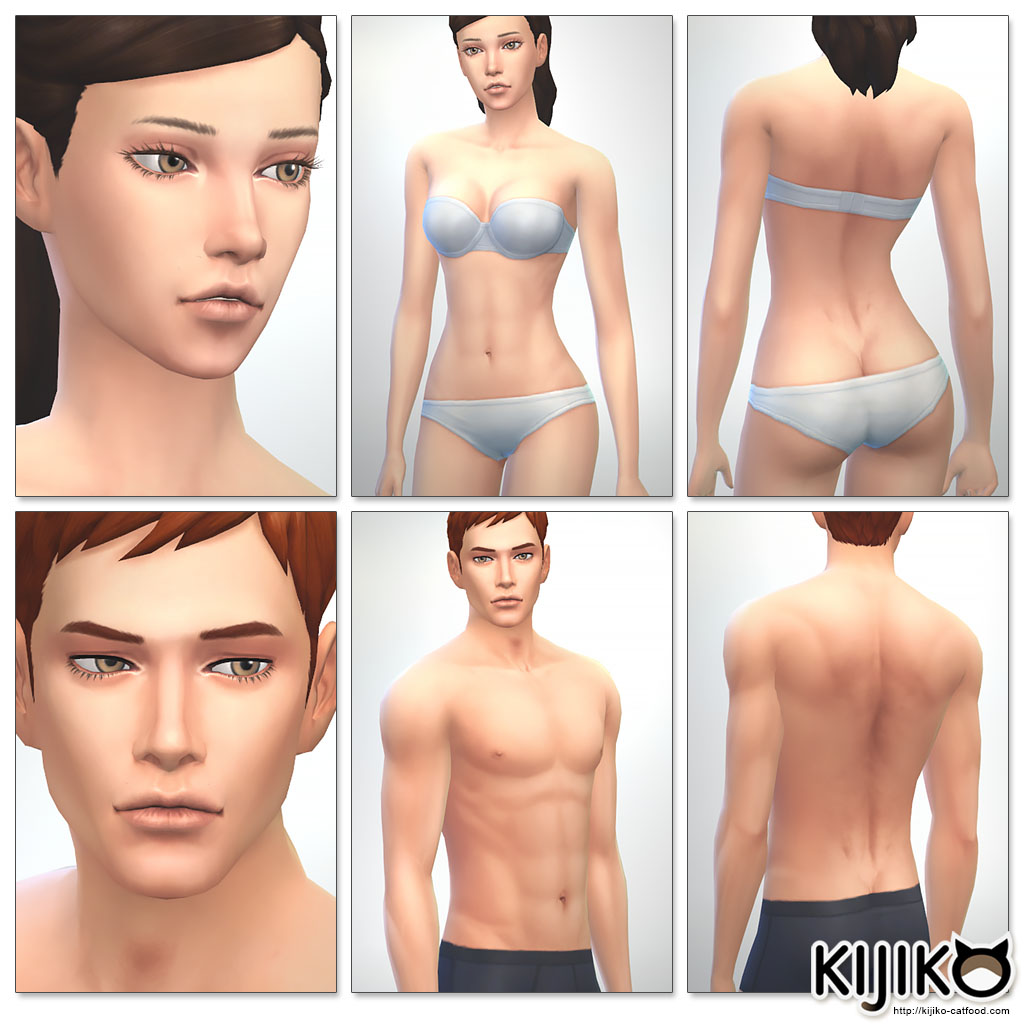 Note
Sim Models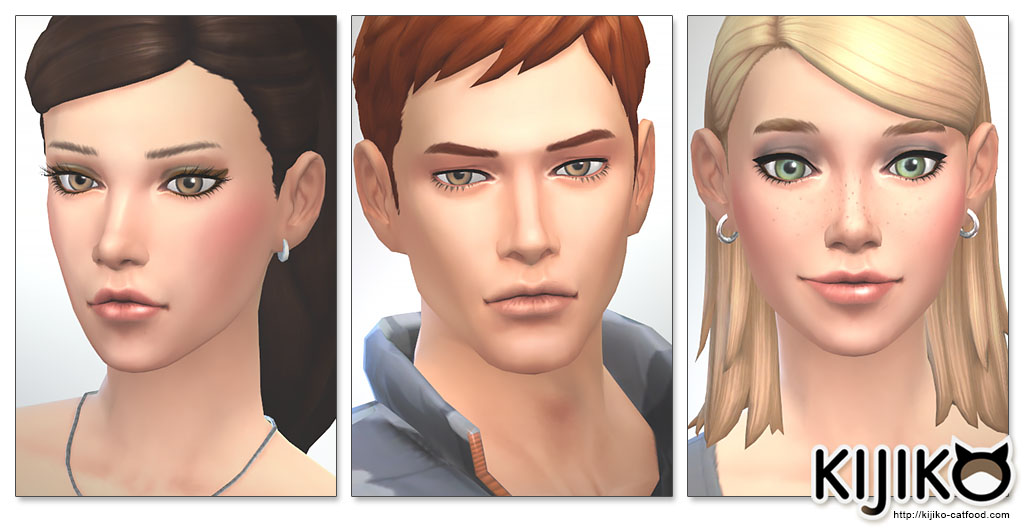 I've uploaded my sim models of screenshots in this page to the Gallery.
Check them out if you like 🙂
Search the Origin ID for "Kijiko-catfood".
Also,please check filter options, Advanced > Include Custom Content.
They will show up on the Gallery.
I used this skin and my lashes to them.
You can get it here : 3D Lashes Version2
なんか画面が肌色いです!・・・でも別にエロいコンテンツじゃないですよ(*´д`;)
以前、スキンのテクスチャーを描き換えたものを、オーバーレイタイプのスキンにしてみました。
非デフォルトのスキンです。肌の詳細として使用でき、額のしわかホウレイ線として被せる事ができます。
こちらのスキン、肌色を変更するタイプと異なり以下のような仕様になってます。
全ての肌色がそのまま使えます。というか肌の色は変更されません。
全てのメイクが(恐らく)使えます。肌色も変更するタイプだとEA純正品のメイク(とその仕様に準拠して作った物)を表示しないか、薄くなったりする場合があると思いますが、このスキンはデフォルト同様に表示する仕様です。
ボディースライダーでの筋肉等の陰影を上書きしません。デフォルト同様にスライダーによってボディのテクスチャが変化します。
瞼の二重線を上書きしません。プリセットの瞼形状を維持します。スキンによって同じ顔になってしまうのを防ぐため瞼の二重線には変更を加えていません。
今のところ、子供は顔のみの変更となります。ボディはデフォルトのままです。
オーバーホール版(デフォルト置き換え)と少々筋肉のエフェクトが異なります。こちらのほうが筋肉の陰影が弱いです。
肌の質感はこちらの自作スキントーン
Skin Tones Glow Edition
を一緒に使う前提で作っていたのですが、デフォルトのスムーズなスキントーンと使っても、また雰囲気が変わって面白いな~なんて思ったり。
お好みでスキントーンとの組み合わせも楽しめるんじゃないかと。
また、こちらのページでスクリーンショットに使ったシムをギャラリーにアップしてみました。
もし、よろしければ見てみて頂けたら嬉しいです(*´ェ`*)
オリジンID "Kijiko-catfood" です。
ギャラリー画面の左側のオプション、詳細 > カスタムコンテンツを含む にチェックを入れて探してみて下さい。
彼等に使用したCCは、こちらのスキンと自作まつ毛です。
3D Lashes Version 2
併せてご覧頂ければ幸いでございます!