3D Lashes Version2 Skin Detail
[Kijiko]eyelash_version2_SkinDetail[experimental]
For Teens to Elders
[Kijiko]eyelash_version2_SkinDetail_Kids[experimental]
For Children
[Kijiko]eyelash_version2_Toddler_SkinDetail[experimental]
For Toddlers
Description
*****Jun/15/2023 Update*****

Added new thin shortish eyelashes styles.
Please overwrite the required file ([Kijiko]eyelash_YF_version2_SkinDetail_TX-ring.package).
HQ compatibility files included. If you are using HQ mod, please install that files.
新たに薄め短めなまつ毛を追加しました。
必須ファイル([Kijiko]eyelash_YF_version2_SkinDetail_TX-ring.package)を上書きしてください。
HQ互換ファイルを同梱しました。HQ modをご使用の場合にそちらのファイルをインストールしてください。
---
These lashes are experimental. They are a little bit peculiar to use.💦
Please refer to the note below for details.
こちらのまつ毛は実験的な物です。ご使用には、ちょいと癖のあるシロモノです(汗)
詳細は下記の注をご参照下さい。(ちょと下の方ですが、日本語併記しました)
Lashes are in Skin Details category. Mouth Crease or Forehead Crease.
Designs and colors are the same as Glasses version,please see the Glasses version for the details.
>>3D Lashes Version2 (Glasses version)
>>Uncurled Eyelashes Edition
These lashes and rings can't be used at the same time because the lashes are mapped on rings' texture area.
Please make sure to turn off the Laptop Mode.
Compatible with eye shape morphing
Feel free to recolor and retexture,
but if you upload it somewhere,please DO NOT include mesh data.
Please link to my blog as a way to get mesh data.
Also please DO NOT copy my meshes.
There may be cases where the mesh data is updated for fixing issue.
Please make sure your game is updated to the latest version.
CC may not work if the game has not been updated.
Do not re-upload, duplicate, or not include in your uploads. I do not guarantee that it will work for your use. Use at your own risk.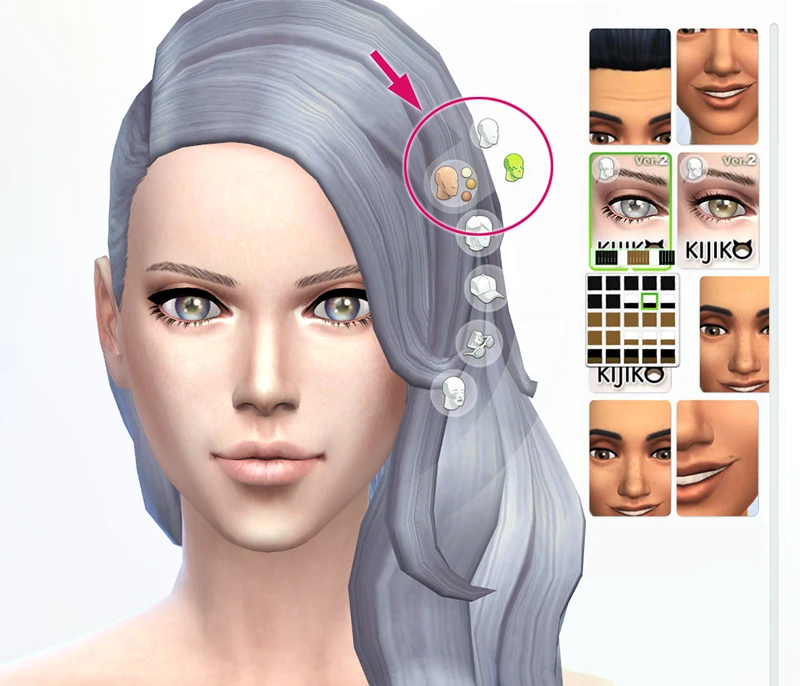 Uncurled Eyelashes Edition Skin Detail

[Kijiko]eyelash_YU_version2_Uncurled_SkinDetail
Description
Additional Styles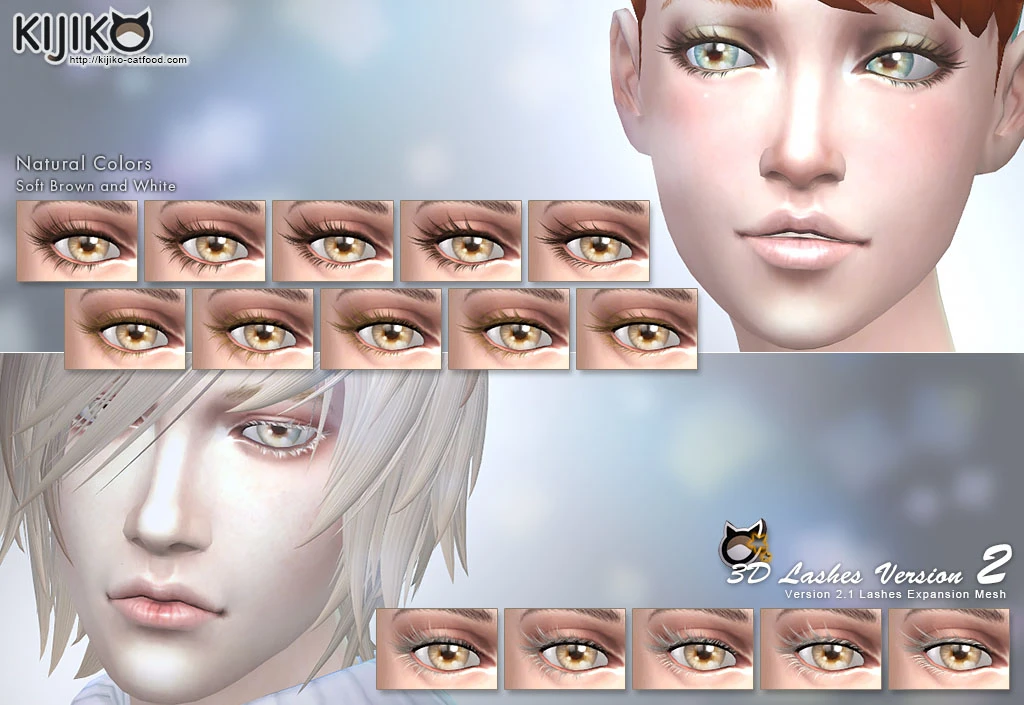 [Kijiko]eyelash_version2_SkinDetail_natural-colors
Description
*****Jun/22/2022 Update*****
Fixed the lashes to be hidden when werewolves are in the beast form.
ウェアウルフのビースト形態で、まつ毛が表示されないよう修正しました。
Optional files for the lashes above.([Kijiko]eyelash_version2_SkinDetail[experimental])
The mesh files required.(mesh data is not included.)
Known Issues
These eyelashes are mapped to the textured area of rings, so the eyelashes and rings cannot be used at the same time.
These lashes can be used with glasses,but there are some issues.
Some of EA's glasses make lashes distortion.
When I made glasses for testing,it did not make distortion,though.
Depending on the way to make glasses,it seems that can be avoided.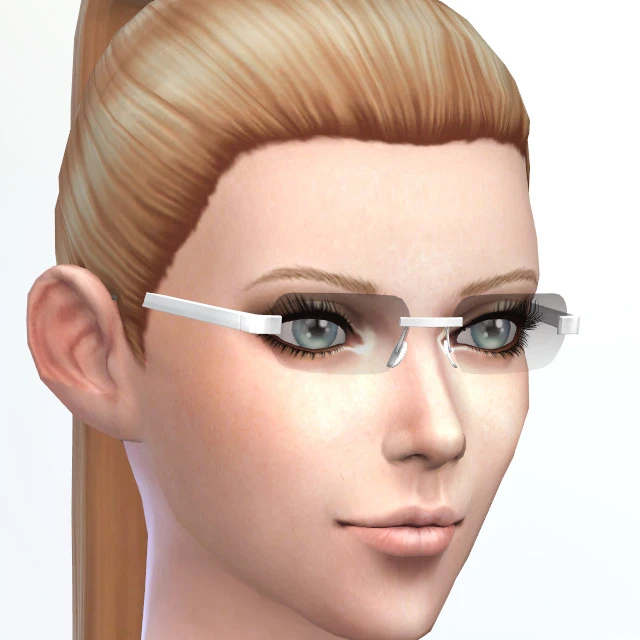 日本語ディスクリプション
ひえーーー。ずいぶん下の方になってしまいましたが・・・
メガネとして使用する通常版はこちらにて配布しています。
こちらのまつ毛はスキンディティールとして使用します。ホウレイ線パーツとなってます。
(オプションとして額のしわパーツもあります。)
シムが裸時や、仕事着になった時もまつ毛が外れません。
ですが、スキンディティールなので一旦シムを作成してしまうと、まつ毛を変更する事ができません。
また、服のカテゴリー毎にまつ毛を変更する事もできません。
もし、既存のシムに対してこちらのまつ毛を変更したい場合、チートが必要です。
ご存知な方も多いと思いますが、以下の手順で変更する事ができます。
CTRL+SHIFT+Cを同時押しで、画面上のほうにチートコンソールが表示されます
testingCheats on とまず入力、Enterキーを押してください。
続けて、 cas.fulleditmode と入力
Shiftキーを押しながらシムをクリック、CAS修正を選択
以上で最初にシムを作成した時と同じようにフルにシムをカスタマイズできるはずです。
こちらのまつ毛は、指輪のテクスチャースペースを使用しています。
これは、シムズ4の仕様である程度のサイズのテクスチャースペースが確保できないため、なんらかのアクセサリーを犠牲にせざるを得なかったためです。
なので、こちらのまつ毛、指輪(全ての指用)と一緒に使用する事ができません。
ご了承ください。
***2016/03/22 アップデート***
上にも書きましたが、大人用のまつ毛にメガネ版と同じロングバージョンのデザインを追加しました。
こちらをお使いの場合、お手数ですがファイルを再ダウンロードして、古いファイルを上書きしてください。同梱のファイルにロングデザイン用のファイルが入っていますので、そちらをメインのファイルと一緒にお使い下さい。
ファイルの詳細は同梱のRead Meファイルをお読み下さい。
***2017/08/24 アップデート***
新しいまつ毛デザインを追加しました。
元のメガネ版と同じデザインが含まれています。
詳細はメガネ版をご覧下さい。
[Kijiko]eyelash_YU_version2_Uncurled_SkinDetail
と書いてある下のダウンロードボタンよりダウンロードできます。
既知の問題
上図を併せてご参照下さい。
こちらのまつ毛はメガネとも一緒に使用することができます。
ですが、一部のEA製のメガネを一緒に使用すると、まつ毛が歪む事があります。
どうも、メガネとまつ毛の距離が近いとメガネに引っ張られるように、モーフが可笑しな具合になってしまうようです。
自作品を作って試してみたところ、作り方次第ではこの問題は回避できるようです。
ただ、開発側はメガネの内側にアクセサリーを付ける事は想定していないと思いますので、EA製のメガネに関してはどうにもできないかもしれません・・・
なので、まつ毛を歪ませないメガネを幾つか自作しようと目論んでいます。
なにかと癖のあるものですが、もしお試しいただけるのであればお持ち帰り頂ければ幸いです。保存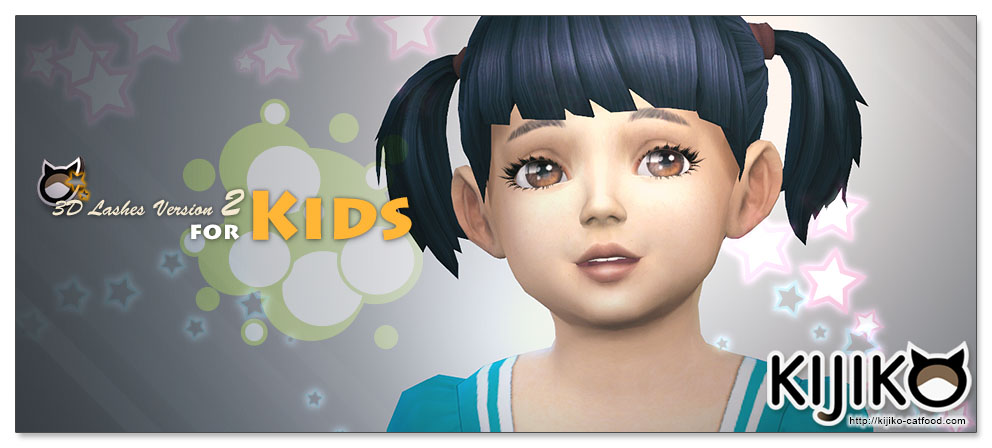 保存
保存