Please Do Not reupload,reproduce.
Please Do Not include my creations in your uploads.
Please use it at your own risk.
3D Lashes Version2 Skin Detail
*****Jun/22/2022 Update*****
Fixed the lashes to be hidden when werewolves are in the beast form.
ウェアウルフのビースト形態で、まつ毛が表示されないよう修正しました。
[Kijiko]eyelash_version2_SkinDetail[experimental]
[Kijiko]eyelash_version2_SkinDetail_Kids[experimental]
[Kijiko]eyelash_version2_Toddler_SkinDetail[experimental]
Uncurled Eyelashes Edition Skin Detail

[Kijiko]eyelash_YU_version2_Uncurled_SkinDetail
These lashes are experimental. They are a little bit peculiar to use.💦
Please refer to the note below for details.
こちらのまつ毛は実験的な物です。ご使用には、ちょいと癖のあるシロモノです(汗)
詳細は下記の注をご参照下さい。(ちょと下の方ですが、日本語併記しました)
Description
Please read the "Note" and "Known issues" below before you use this.
Lashes are in Skin Details category. Mouth Crease or Forehead Crease.
Designs and colors are the same as Glasses version,please see the Glasses version for the details.
>>3D Lashes Version2 (Glasses version)
>>Uncurled Eyelashes Edition
These lashes and rings can't be used at the same time because the lashes are mapped on rings' texture area.
Please make sure to turn off the Laptop Mode.
Compatible with eye shape morphing
Feel free to recolor and retexture,
but if you upload it somewhere,please DO NOT include mesh data.
Please link to my blog as a way to get mesh data.
Also please DO NOT copy my meshes.
There may be cases where the mesh data is updated for fixing issue.
Please make sure that your game version is the latest.

Additional Styles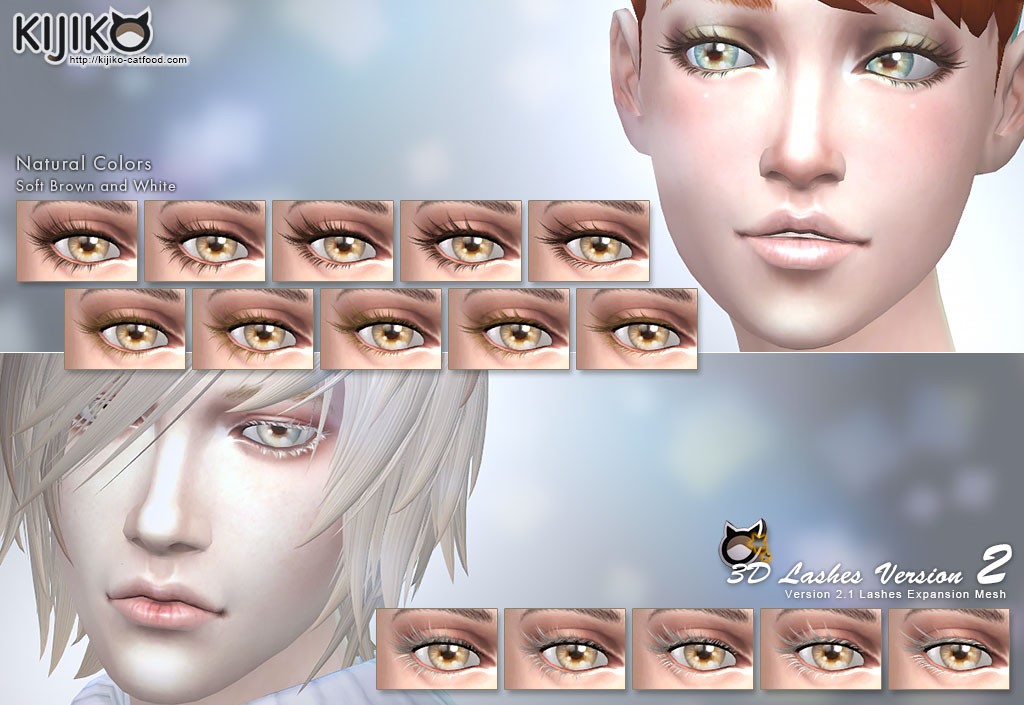 [Kijiko]eyelash_version2_SkinDetail_natural-colors
*****Jun/22/2022 Update*****
Fixed the lashes to be hidden when werewolves are in the beast form.
ウェアウルフのビースト形態で、まつ毛が表示されないよう修正しました。
Description
Optional files for the lashes above.([Kijiko]eyelash_version2_SkinDetail[experimental])
The mesh files required.(mesh data is not included.)
Note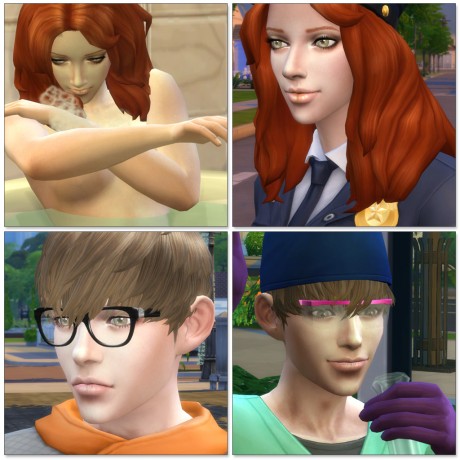 These lashes are skin detail,so they are kept to put on sims when they are naked and wear a career uniform.
(also,of course when they wear glasses)
However,it means that once you create a sim,you can't change it.
Also,you can't change it for each outfit category.
If already sims exist and you want to change their lashes,you need to use cheats.
(I've put the way to change the lashes at the end of this note. )
These lashes are mapped on ring's texture area.
Because of that,you can't use rings and these lashes at the same time.
There are some issues when this eyelash is used with glasses.
Please see the known issues below.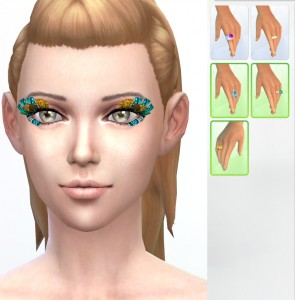 How to change the lashes for an existing sim
*Jun/07/2016
Now you can edit your sims you've already made. Click on a Dresser and choos the new option "Change Sim".
Using Cheats
Press "Ctrl + Shift + C" ,type the cheat code into the text box that appears,and then hit Enter.
First,enter "testingCheats on" (not need double quotation)
then,enter "cas.fulleditmode"
After that,shift-click on a sim and select "Modify in CAS".
You can close the Cheat Console when you press "Ctrl + Shift + C" or esc key.
Known Issues
This eyelash uses the 'Sim Glass shader' for transparent lashes texture.
This shader can't draw transparent texture in laptop mode.
Please turn it off when you use this.
These lashes can be used with glasses,but there are some issues.
Some of EA's glasses make lashes distortion.
When I made glasses for testing,it did not make distortion,though.
Depending on the way to make glasses,it seems that can be avoided.
However,I think Maxis(EA) did not design as usable an accessory behind glasses,so there might be nothing to do for this issue…unfortunately.
Change Log
Sep/10/2015 Update
I updated my lashes.
Fixed an issue about the lashes clipping through a hair with texture alpha.
Thank you for your information,Irina!
The lashes will not be drawn front of bangs any more.
(When a sim moves her head aslant,a hair clips the lashes,though…
well,it's the regrettable behavior of "SimGlass" shader.)

透過ヘアと一緒に使用した際、まつ毛が前髪等の手前に描かれてしまう問題を修正しました。
ただ、シェーダーの問題自体は根本的に回避はできていないので、シムが斜めを向いた時に、前後が反転するので、奥に描かれるはずの髪の毛がまつ毛の上に描かれてしまいます・・・
とりあえず、正面向きの不都合は回避できるので、それだけでも違和感は軽減できると思います。
Irinaさん、情報ありがとうございます!

Aug/12/2015 Update
Fix the issue with specular maps.
I fixed an issue that might affect specular maps of other CAS parts.
スペキュラーマップが他のCASパーツのマップへ影響を与えてしまう可能性がある問題を修正しました。 この問題は、稀に他のアクセサリー等のパーツのスペキュラーマップに妙なラインを表示してしまう事があります。必ずしも発生するわけではないようですが、 すでにこちらのまつ毛をお持ちの場合、問題なくお使いいただくため、お手数ですが、アップデートして頂けると幸いです
Mar/22/2016 Update
Added the long eyelashes styles.(for adult)
If you've already got my lashes (version 2 for Skin details),please overwrite the old files.
If you use long eyelashes styles,you need to put main files and optional files included in this zip file into your Mods folder.
Please see the 'Read Me' file (included in this .zip file) for the details.
まつ毛ファイルを更新しました。
大人用にロングバージョンのまつ毛を追加しました。もし、こちらのまつ毛をお持ちの場合、再ダウンロード後、古いファイルを上書きしてお使い下さい。
ロングバージョンのまつ毛はオプションファイルとなってますので、メインのファイルと一緒にお使い下さい。
Jun/07/2016 Update
The Lashes are now compatible with Masculine Female and Feminine Male.
If you already have got these lashes,download again and delete the old files,then install again.
The files for Male are not needed. The Lashes are compatible with all gender by one file. So,I strongly recommend that you DELETE the ALL old files of these Lashes before re-install of new lashes files.
まつ毛を男性的女性・女性的男性に対応させました。
もし、すでにこちらのまつ毛をお持ちの場合、再ダウンロードし、古いファイルを削除後、再度新しいファイルをModフォルダに入れてください。
以前の男性用ファイルが必要なくなりました。1ファイルで全性別に対応しています。
そのため、こちらを再インストール前に古いまつ毛ファイルを全て削除する事を強くお勧めします。
Dec/03/2017 Update
Fixed an issue that was not able to use very thin lashes styles in mouth crease category. (for Adults' lashes)
If you use this update,download again and overwrite the following file.
[Kijiko]eyelash_YF_version2_SkinDetail_TX-ring.package
Nov/10/2017 Update
Compatible with the latest patch (PC 1.36.99.1020 / Mac 1.63.99.1220)
If you've already got the lashes,please overwrite the following older file :
[Kijiko]eyelash_YF_version2_SkinDetail_TX-ring.package
[Kijiko]eyelash_CU_version2_SkinDetail_TX-ring.package
[Kijiko]eyelash_TU_version2_SkinDetail_TX-ring.package
[Kijiko]eyelash_TU_version2_SkinDetail_TX-ring_FH.package
まつ毛を最新パッチ(PC 1.36.99.1020 / Mac 1.63.99.1220)に対応させました。
もしすでにこちらのまつ毛をお持ちの場合、以下のファイルを上書きしてご使用下さい。
[Kijiko]eyelash_YF_version2_SkinDetail_TX-ring.package
[Kijiko]eyelash_CU_version2_SkinDetail_TX-ring.package
[Kijiko]eyelash_TU_version2_SkinDetail_TX-ring.package
[Kijiko]eyelash_TU_version2_SkinDetail_TX-ring_FH.package
ひえーーー。ずいぶん下の方になってしまいましたが・・・
ご使用に関するノート(日本語)
メガネとして使用する通常版はこちらにて配布しています。
こちらのまつ毛はスキンディティールとして使用します。ホウレイ線パーツとなってます。
(オプションとして額のしわパーツもあります。)
シムが裸時や、仕事着になった時もまつ毛が外れません。
ですが、スキンディティールなので一旦シムを作成してしまうと、まつ毛を変更する事ができません。
また、服のカテゴリー毎にまつ毛を変更する事もできません。
もし、既存のシムに対してこちらのまつ毛を変更したい場合、チートが必要です。
ご存知な方も多いと思いますが、以下の手順で変更する事ができます。
CTRL+SHIFT+Cを同時押しで、画面上のほうにチートコンソールが表示されます
testingCheats on とまず入力、Enterキーを押してください。
続けて、 cas.fulleditmode と入力
Shiftキーを押しながらシムをクリック、CAS修正を選択
以上で最初にシムを作成した時と同じようにフルにシムをカスタマイズできるはずです。
こちらのまつ毛は、指輪のテクスチャースペースを使用しています。
これは、シムズ4の仕様である程度のサイズのテクスチャースペースが確保できないため、なんらかのアクセサリーを犠牲にせざるを得なかったためです。
なので、こちらのまつ毛、指輪(全ての指用)と一緒に使用する事ができません。
ご了承ください。
***2016/03/22 アップデート***
上にも書きましたが、大人用のまつ毛にメガネ版と同じロングバージョンのデザインを追加しました。
こちらをお使いの場合、お手数ですがファイルを再ダウンロードして、古いファイルを上書きしてください。同梱のファイルにロングデザイン用のファイルが入っていますので、そちらをメインのファイルと一緒にお使い下さい。
ファイルの詳細は同梱のRead Meファイルをお読み下さい。
***2017/08/24 アップデート***
新しいまつ毛デザインを追加しました。
元のメガネ版と同じデザインが含まれています。
詳細はメガネ版をご覧下さい。
[Kijiko]eyelash_YU_version2_Uncurled_SkinDetail
と書いてある下のダウンロードボタンよりダウンロードできます。
既知の問題
上図を併せてご参照下さい。
こちらのまつ毛はメガネとも一緒に使用することができます。
ですが、一部のEA製のメガネを一緒に使用すると、まつ毛が歪む事があります。
どうも、メガネとまつ毛の距離が近いとメガネに引っ張られるように、モーフが可笑しな具合になってしまうようです。
自作品を作って試してみたところ、作り方次第ではこの問題は回避できるようです。
ただ、開発側はメガネの内側にアクセサリーを付ける事は想定していないと思いますので、EA製のメガネに関してはどうにもできないかもしれません・・・
なので、まつ毛を歪ませないメガネを幾つか自作しようと目論んでいます。
なにかと癖のあるものですが、もしお試しいただけるのであればお持ち帰り頂ければ幸いです。
保存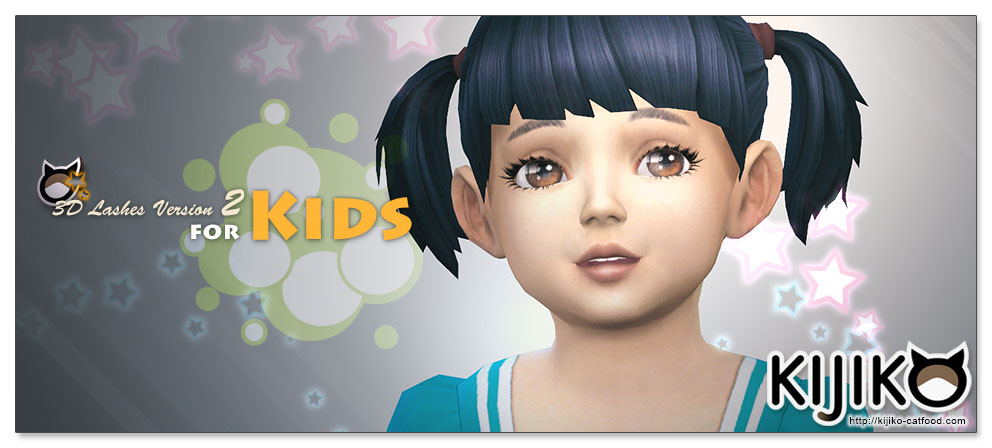 保存
保存