Please
Do Not reupload,modify,reproduce
.
Please
Do Not include my creations
in your uploads.
Please use it at your own risk.
[Kijiko]S4_hair025_YU_Balinese_s4edit
Description
'Hototogisu' TS4 edition for Teen/YA/Adult/Elder
For All Genders
Non‐Alpha Textures (no problem with shader issue using textures with alpha channel for hair)
Feel free to recolor and retexture,
but if you upload it to somewhere,please DO NOT include mesh data.
Please link to my blog,as a way to get mesh data.
There may be cases where the mesh data is updated for fixing issue.
Please make sure your game is updated to the latest version.
If the game has not been updated,CC may not work.
for Male / Masculine Frame
for Female / Feminine Frame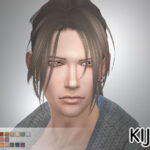 Hototogisu TS3 to TS4 conversion
同じ髪型のコンバート版があります。

シムズ3用に作った髪型「Hototogisu」をシムズ4仕様でリメイクしてみました。非透過ヘア、いわゆる粘土ヘアです。
男女両用です。
ただこちらの髪型もうなじを男女で調整する必要があったため、男女のメッシュは両用で作っておらず、男性と女性メッシュ両体格用のメッシュを持ってます。もしリカラー・リテクスチャを作られる場合は男女どちらのメッシュを参照するかご注意下さい。
保存
保存
保存
保存
保存
保存
保存
保存