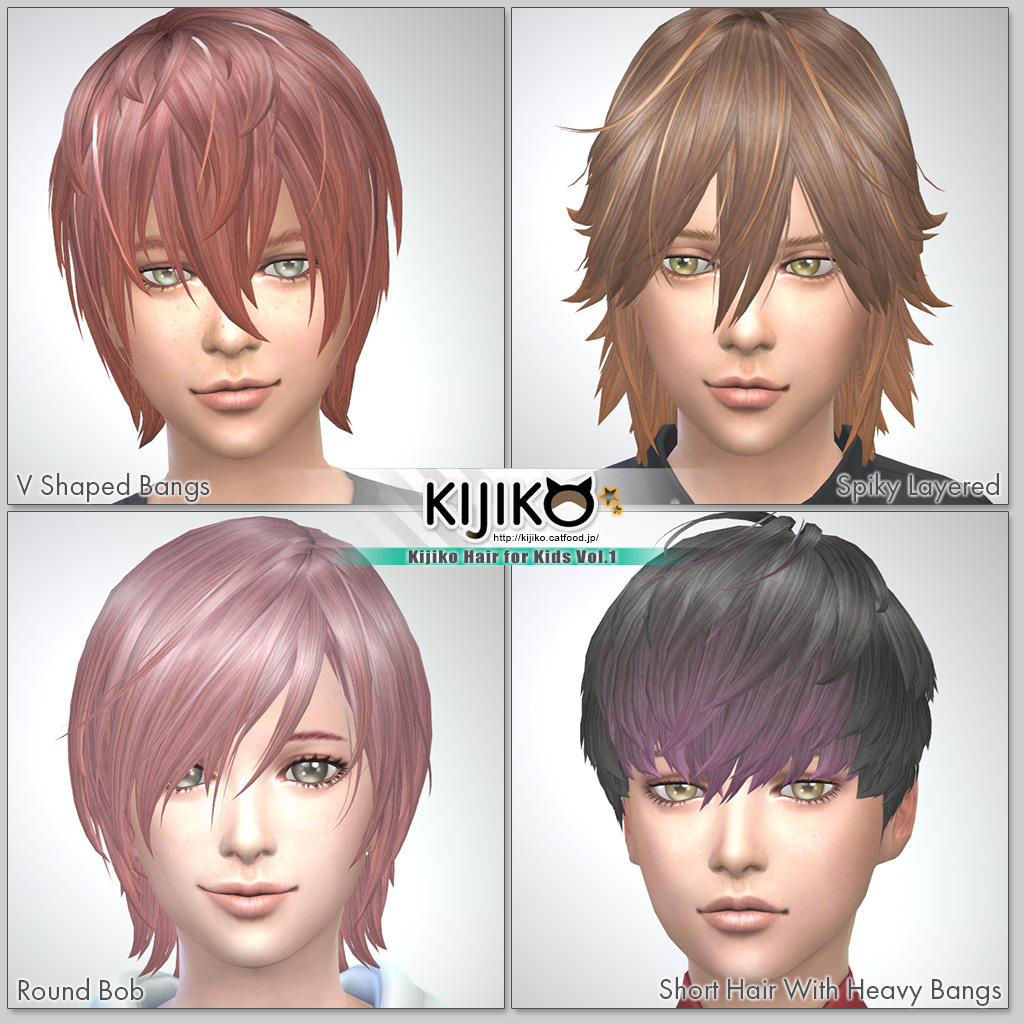 Please
Do Not reupload,modify,reproduce
.
Please
Do Not include my creations
in your uploads.
Please use it at your own risk.
V Shaped Bangs : [Kijiko]S4_hair000_CU_Lynx
Spiky Layered : [Kijiko]S4_hair003_CU_Serval
Round Bob : [Kijiko]S4_hair006_CU_FishingCat
Short Hair With Heavy Bangs : [Kijiko]S4_hair008_CU_PampasCat
Description
Hairstyles for Child
Unisex
Non‐Alpha Textures (no problem with shader issue using textures with alpha channel for hair)
There are the same number of colors as adult version.
Feel free to recolor and retexture,
but if you upload it to somewhere,please DO NOT include mesh data.
Please link to my blog as a way to get mesh data.
There may be cases where the mesh data is updated for fixing issue.
Note
the 'Additional colors' will be appeared in CAS as stand-alone CAS parts (as different hairstyle from default colors).
In current game version,children's hair colors have an issue where the hair color is changed to different color when we change the outfit category.
I've separated the additional colors from default colors because of avoiding this issue,but it may still happen…
Adult versions
V Shaped Bangs (for Male)
Spiky Layered (for Male)/(for Female)
Round Bob (for Male)
Short Hair With Heavy Bangs (for Male)/(for Female)
A little gift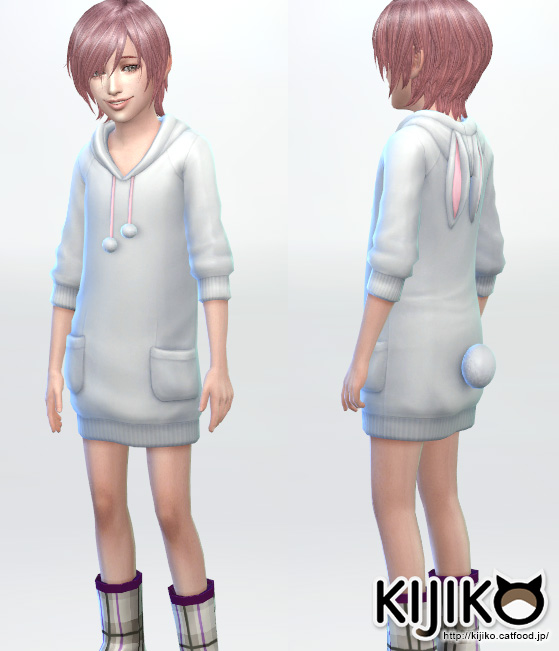 Bunny Hoodie (Get to Work) for Boys
This file enables boys to wear the Bunny Hoodie.
'Get to Work' expansion pack Required
こちらのファイルは、Get to Workで追加された、うさパーカーを男の子も着用可能にします。
Get to Work拡張パックが必要です。
子ども用に拙宅の髪をいくつかコンバートしてみました。
前回まつ毛のときは女の子シムを作成したので、今回は髪型の雰囲気からも男の子シムを作ってみました。さらにクソガキ度が高くなってしまいました。やはり子どもを愛らしく・・・というのが難しいです。
また、下のファイルはGet to Work拡張パックで追加された子ども服、うさパーカーを男の子も着れるようにするものです。
この服、今回の拡張パック中一番の出来!と思ってます。個人的には。女の子だけでは勿体ないので、男の子にも着れるようにしてみました。・・・だたそれだけですが。
(ですが、実はテクスチャーは女の子用のものを複製した物を参照しているので、package内のテクスチャーをリカラーして男の子用に色を変える、なんて事もできる・・・はずです。多分。面倒だったのでやってないですが。)
あと、追加の髪色が別ファイルで入っていますが、こちら、インストールすると別髪としてサムネールが出てくると思います。
子どもの髪色なんですが、今現在のバージョンで、デフォルト色と同じ髪色フラグ、もしくはフラグが無い(フラグの付けようがない色って出てくると思うんですCCの髪だと)場合、アウトフィットのカテゴリーを変えた時に髪色がずれる、という不具合(?)があるので、それを回避するためこのようになってます。
たぶんデフォルト色のすぐ近くに表示されていると思いますが、ご了承下さい。