3D Lashes Version2
Description
*****Jun/15/2023 Update*****

Added new thin shortish eyelashes styles.
Please overwrite the required file ([Kijiko]eyelash_YF_version2.package).
HQ compatibility files included. If you are using HQ mod, please install that files.
新たに薄め短めなまつ毛を追加しました。
必須ファイル([Kijiko]eyelash_YF_version2.package)を上書きしてください。
HQ互換ファイルを同梱しました。HQ modをご使用の場合にそちらのファイルをインストールしてください。
Eyelash for Teen/YA/Adult/Elder,For All Gender.
Lashes are in Accessories category.(Glasses)
Compatible with eye shape morphing
Please make sure to turn off the laptop mode.
Feel free to recolor and re-texture,but if you upload and share it,please DO NOT include mesh data.
Also,please DO NOT copy my meshes.
Please link to my blog as a way to get mesh data.
There may be cases where the mesh data is updated for fixing issue.
Please make sure your game is updated to the latest version.
CC may not work if the game has not been updated.
Do not re-upload, duplicate, or not include in your uploads. I do not guarantee that it will work for your use. Use at your own risk.
Installation Guide for The 3D Lashes
If you have any trouble,please check out this guide.
https://kijiko-catfood.com/installation-guide-for-the-3d-lashes/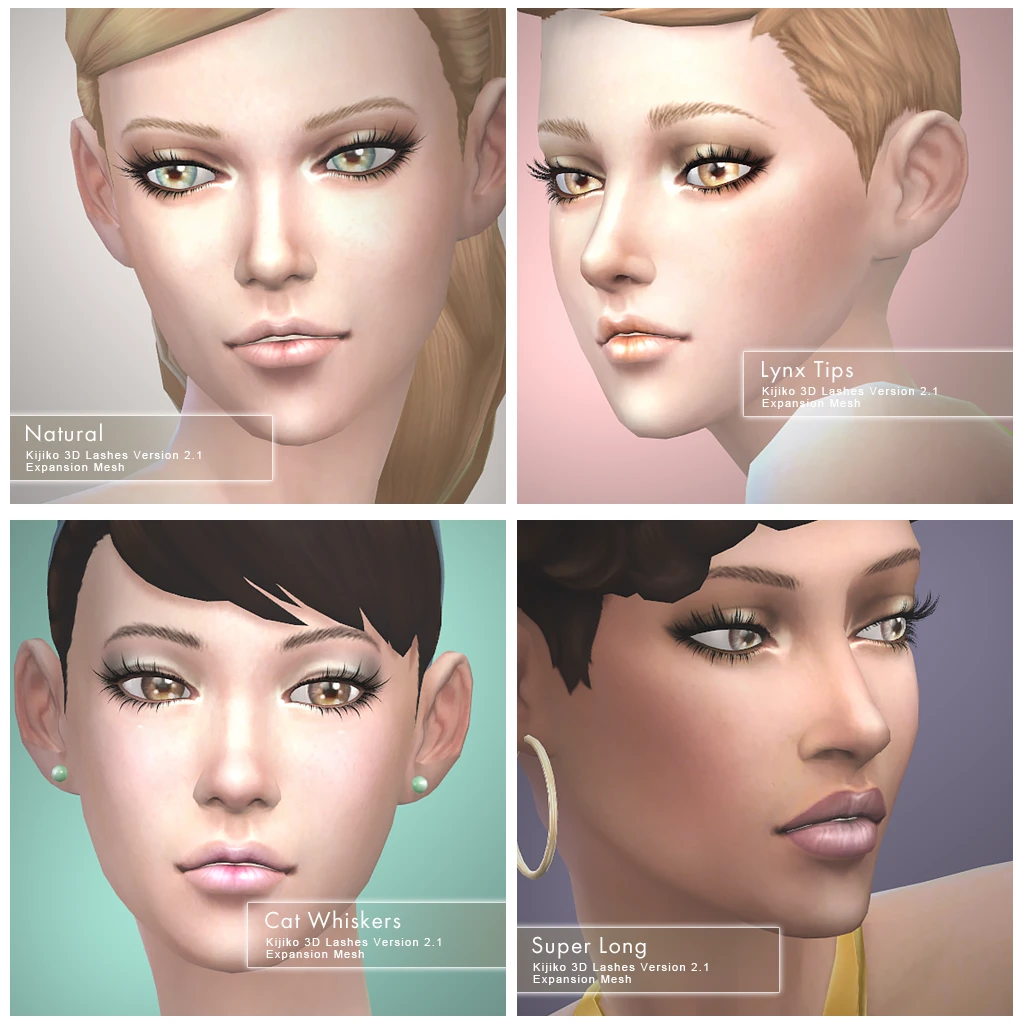 EA Eyelashes Remover MOD
Post moved. You can download it here.
記事を移動しました。こちらからダウンロードできます。
Additional Styles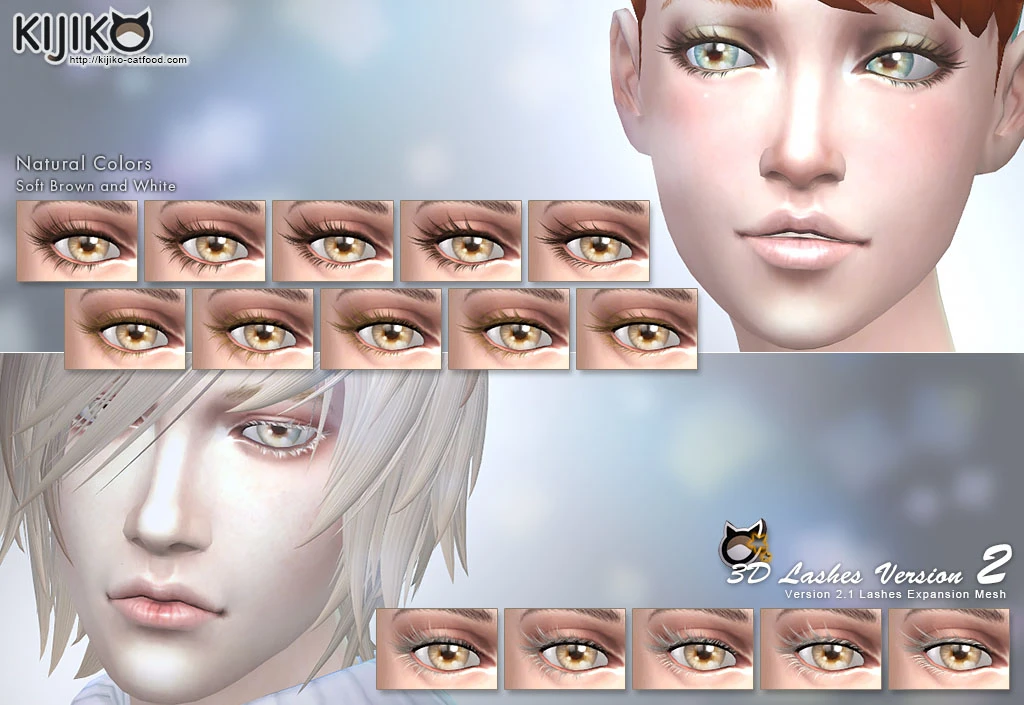 [Kijiko]eyelash_version2_natural-colors
Description
Optional files for the lashes above.
The mesh files required.(mesh data is not included.)
I updated the main files which include mesh data in Dec/08/2015.
Even if you've got my lashes (Main files) already,you need update them for using these additional colors if main files in your Mods folder are older than that.
Please download again,and overwrite old files.
Please make sure that your game version is the latest.
Party Colors (Optional file)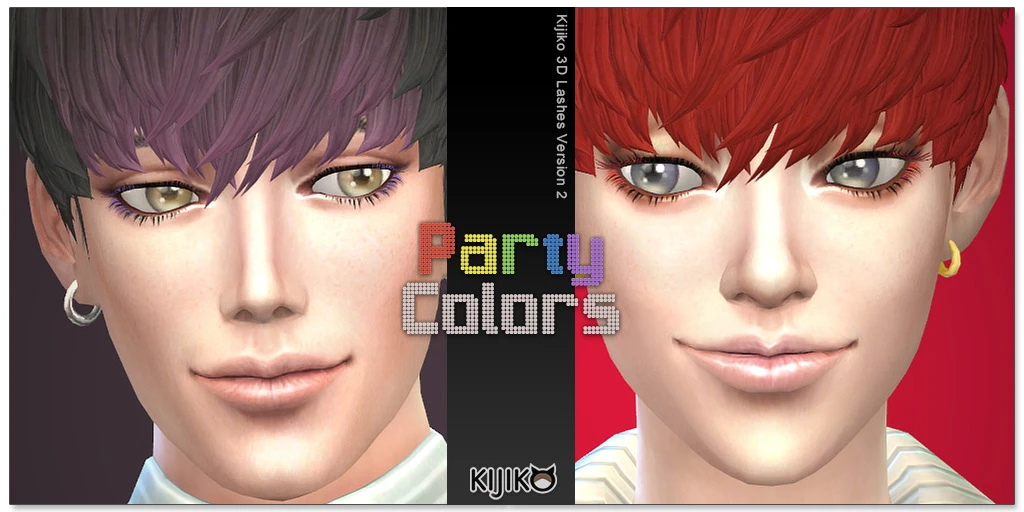 [Kijiko]eyelash_version2_option_PartyColors
Description
This is an optional file for the lashes above.
The mesh files required.(the mesh data is not included.)
5 colors and 5 designs with white color (Regular length)
For Female and For Male included.
日本語ディスクリプション
3Dまつ毛の新バージョンです。
前バージョンよりメッシュ形状がスムーズになっていると思います。
デザインも増やしましたので、新たに拙宅のまつ毛のご使用を考えて下さっておられたら、こちらのまつ毛バージョン2をおススメいたします。
2017/11/15
EAのまつ毛除去Modを追加しました。
[Kijiko]Remove-EA-Lashes
EA睫毛削除 ティーン/若年/成人/老年 用
女性体格男性、男性体格女性、ヴァンパイア、エイリアン対応
Lod0(近距離用モデル)のみ対応です。
こちらのファイルはEAのデフォルトまつ毛を削除します。
全シムへ自動的に適応されません。EAのまつ毛を外したいシムに個別に装着させる必要があります。
まつ毛リムーバーはスキンディティールカテゴリーの中にあります。ほくろとして使用する形になっております。
リムーバーを着けるとEAのまつ毛が外れ、外すとEAのまつ毛が表示されます。
以下、まつ毛メインファイル等の説明です。
[Kijiko]eyelash_version2
こちら、メッシュデータを含むまつ毛ファイル本体です。解凍後、女性用と男性用が入っていますので、どちらかまたは両方をModフォルダーへぶち込んでください。
前と同様、アクセサリーカテゴリーのメガネとなっています。7種類の基本デザインと3種類の下のみのハーフがそれぞれ黒・ブラウンの2色展開、5種類の下まつ毛薄めなデザイン(こちら黒のみです)となってます。また、解凍後に以下のパッケージファイルが入っております。
[Kijiko]eyelash_YF_version2_expansion-lashes00
[Kijiko]eyelash_YM_version2_expansion-lashes00
こちらは、長いまつ毛デザインを追加します。メッシュ自体はメインファイルに入っておりますので、メインファイルと一緒にご使用下さい。詳しくはRead Meファイルを同梱致しましたので、ご参照下さい。
[Kijiko]eyelash_version2_option_PartyColors
こちらはオプションファイルです。
カラーつきまつ毛5色と白まつ毛5種類を追加します。
こちらのみでは動きませんので、本体ファイルが必要です。